Our Doctors
Doctor Profile
Ryan Krochak, M.D.
Ryan Krochak, M.D, is a fellowship-trained sports medicine physician, specializing in both minimally invasive (arthroscopic) and open treatment of knee and shoulder injuries. He has conducted extensive research, lectured, and written on a variety of topics including ACL tears in children, cutting-edge ACI (autologous chondrocyte implantation) for knee cartilage repair, and rotator cuff injury and repair.
Ryan Krochak, M.D. enjoys working with athletes of all ages and brings years of experience as a team physician for professional, college, and youth athletes. Dr. Krochak's expertise includes cartilage repair/regeneration, osteochondritis dissecans, and patella instability in addition to common injuries such as ACL, meniscus, labral, and rotator cuff tears.
Ryan Krochak, M.D., joined Orlin & Cohen after completing his fellowship training in orthopedic sports medicine at the University of Pennsylvania in Philadelphia, PA. He was previously team physician for the University of Pennsylvania, the University of the Sciences, and Monsignor Bonner High School Football.
Hospital Affiliations:
Syosset Hospital, Syosset, NY
Long Island Jewish Valley Stream, Valley Stream, NY
Long Island Jewish Medical Center, New Hyde Park, NY
Surgery Center Affiliation:
Center for Advanced Medicine Surgery Center, New Hyde Park, NY
Professional Affiliations:
American Orthopedic Society for Sports Medicine
American Academy of Orthopedic Surgeons
Arthroscopy Association of North America
Undergraduate Education:
University of Pennsylvania, Philadelphia, PA, 2007
Medical Education:
New York University School of Medicine, New York, NY, 2011
Residency:
Orthopedic Surgery, Maimonides Medical Center, Brooklyn, NY, 2016
Fellowship:
Orthopedic Sports Medicine, University of Pennsylvania, 2018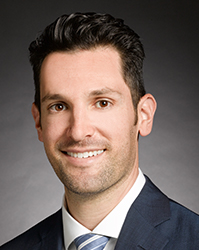 I consider each patient to be a unique individual and will work with you to create a customized treatment plan best suited for your needs. All of my patients receive the highest quality of care through the use of cutting-edge surgical, nonsurgical, and rehabilitation techniques in order to maximize results and ensure the quickest recovery.
Locations
1728 Sunrise Highway
Merrick, NY 11566
1101 Stewart Avenue
Suite 100
Garden City, NY 11530
45 Crossways Park Drive
Woodbury, NY 11797