Dr. Carroll named St. Joseph's physician of the year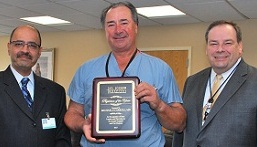 Dr. Carroll was awarded as the Physician of the Year at St. Joseph Hospital in Bethpage, NY. All physicians affiliated with St. Joseph's are eligible for this award and Dr. Carroll was chosen due to his loyalty and commitment to the hospital over the years. He is a respected physician at St. Joseph Hospital and has done many of his cases there since 1981.
Dr. Carroll is a board-certified orthopedic surgeon who specializes in hip and knee replacements. A member of The Orlin & Cohen Orthopedic Group's total joint replacement team, Dr. Carroll earned his medical degree from Georgetown University Medical School, Washington, DC, served his internship and residency at Stony Brook University Medical Center then completed a fellowship in joint replacement at the Royal National Orthopedic Hospital in London.
To learn more about Dr. Carroll visit: Dr. Carroll's profile