Orlin & Cohen Orthopedic Group welcomes renowned shoulder specialist to sports medicine practice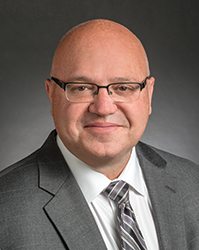 Smithtown, NY (January 17, 2019) – Orlin & Cohen Orthopedic Group, Long Island's leading orthopedic practice, is pleased to announce the addition of Philip Schrank, M.D. to its sports medicine and shoulder subspecialties practice. Dr. Schrank will see patients in the Orlin & Cohen offices at 3480 Veterans Memorial Highway in Bohemia, NY and at 222 Middle Country Road, Suite 340 in Smithtown, NY.
Philip Schrank M.D., is a board-certified, fellowship-trained sports medicine and shoulder specialist. He has treated over 10,000 patients with shoulder injuries during the course of his career. He lectures extensively on the treatment of shoulder arthritis, rotator cuff injuries, and shoulder dislocations. He has participated in the design and implementation of state-of-the-art shoulder replacement instrumentation and arthroscopic shoulder implants.
He has been recognized with the 2015 Theodore Roosevelt Award for physician excellence and leadership.
His professional affiliations include the American Board of Orthopedic Surgeons; the American Academy of Orthopedic Surgeons; Medical Society of the State of New York; Suffolk County Medical Society; and he is an ImPACT Provider & Consultant.
Before joining Orlin & Cohen, Dr. Schrank was a partner and shoulder specialist at St. Charles Orthopedics and Orthopedic Associates of Long Island.
Dr. Schrank also previously served as an assistant team physician for multiple teams including the Los Angeles Lakers, Los Angeles Dodgers, and Los Angeles Kings. An accomplished lecturer and educator, he completed his sports medicine fellowship at the Kerlan-Jobe Orthopedic Clinic in Los Angeles, CA.
About Orlin & Cohen
Orlin & Cohen Orthopedic Group is a multi-specialty practice that can conveniently meet all patients' orthopedic and musculoskeletal needs. The practice features a team of board-certified, fellowship trained orthopedic subspecialists, as well as in-house advanced diagnostic imaging, neuromuscular testing, pain management, physical rehabilitation and occupational therapy. The practice includes an expansive and accessible team of physicians including subspecialists in sports medicine, foot and ankle, hand and upper extremities, joint replacement, spine neck and back, neurology, pain management, and radiology.