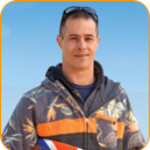 While years as a professional surfer and snowboarder have taken a physical toll on me, I credit Orlin & Cohen Orthopedic Group's fellowship-trained knee and hip subspecialists with giving me back years on my beloved boards.
I initially became a patient of the practice in 1997 while I was a professional snowboarder. Craig Levitz, M.D., a knee and sports medicine subspecialist reconstructed my right knee. Several years later, I returned to Orlin & Cohen when I tore the meniscus in my left knee while surfing competitively. I had the knee surgically repaired by Eric Price, M.D., a fellowship-trained, sports medicine subspecialist.
Dr. Price got me back up to speed after a quick surgery and rehabilitation. He understood how much it meant to me to be able to compete on a high level. I am amazed at how well both my knees are doing with all the abuse they take with my surfing, snowboarding and wakeboarding.
But it wasn't a specific injury – rather severe arthritis and dysplasia in my hip – that threatened to change my life forever in 2012. I had been suffering with very bad hip and back pain for nearly five years, and was having difficulty with simple tasks such as putting on my shoes or getting into a car. It looked like surfing was going to become a distant memory.
After discussing my options with Orlin & Cohen's Bradley Gerber, M.D., a fellowship-trained, hip subspecialist, who initially attempted to relieve my pain via cortisone injections, they decided to go forward with a hip resurfacing procedure.
Hip resurfacing was definitely the best option for me. Immediately after surgery, my back and hip were feeling much better. Six months after surgery I was surfing; 10 months snowboarding, and at 12 months I was back wakeboarding. The mobility that I have with my hip is great. Athletically, I'm performing at a higher level; I have better range of motion and I'm pain-free.
I would like to thank all the doctors at Orlin & Cohen for each time they gave me my life back – and made it even better than before.