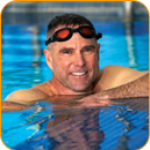 For as long as I can remember, my life has revolved around being in, or around, the water. I'm the owner/operator of a marina and an avid recreational swimmer. But excruciating shoulder pain almost caused me to give up my livelihood and passion.
Now, I'm back at my physically demanding job – and in the pool – thanks to shoulder surgery performed by Jonathan B. Ticker, M.D.
While I had been experiencing pain in my left shoulder for about a year, it increased considerably when I was cleaning up after Superstorm Sandy, with the constant lifting of cinderblocks and other debris.
I had complete confidence in Dr. Ticker's abilities. When he recommended surgery – and assured me that I'd be back at work without limitations within a month – I believed him.
Two days after surgery, I was back to work with a sling and was able to continue working on a limited basis for the next two days. A mere nine days after surgery, I swam 2,500 yards as part of my normal exercise routine. My physical therapist was thrilled with Dr. Ticker's recommendation to get my arm in motion as soon as possible, and feels that was one of the reasons my rehabilitation went so well. I was pain-free and enjoying the full use of my arm within two weeks of surgery.
I am back to swimming three days per week and working full time, thanks to the skills of Dr. Ticker.