Pain Management Injections
The Staff of Orlin & Cohen Pain Management wishes to make your upcoming visit as comfortable and pleasant as possible. You will be provided with the highest quality of care in a warm, personal setting. Please read the following information carefully. You will find it helpful in making your injection a successful experience.
Before You Arrive.
The 

Pain Management

staf

f will call the day before your scheduled injection to discuss any questions and to confirm your appointment. Please do not hesitate to ask any questions and be sure to let the staff know of any special needs.
Do not eat or drink anything after midnight for a morning procedure. For an afternoon procedure you will be instructed by the nursing staff when to stop eating. Food in the stomach can cause serious complications and your injection could be cancelled or postponed.
If you are taking medications, please refer to the medication list given at time of scheduling as some of these medications must be stopped prior to your procedure.
Call your doctor if you develop a cold, fever or respiratory problem before injection.
For women, if there is any possibility that you are pregnant, please notify your physician.
For your safety, you must arrange for someone to drive you home after the procedure. That person is welcome to stay in the waiting room or we will contact that person when you are ready to be picked up.
Day Of Pain Management Injection. 
Bathe or shower the morning of your procedure to minimize the chance of infection.
Women should remove all makeup and nail polish.
Wear loose, casual clothing and low-heeled shoes. Tight fitting pants are particularly uncomfortable after certain injections.
Arrive a half hour prior to your scheduled time. This will allow adequate time for all necessary admission procedures.
Leave valuables at home, including your wallet and jewelry.
Bring your insurance cards and a photo ID.
Limit the number of people who accompany you. To maximize comfort of all our visitors, we suggest that adult patients be accompanied by only one person.
Do not smoke immediately before or after receiving an anesthetic. Smoking may interfere with the anesthetic and frequently produces nausea during the recovery period.
Pain Management Injection Recovery Period.
After your injection, you will be moved to our fully equipped recovery room and monitored by our experienced staff until you are ready to go home. Although the time varies, most patients are discharged 30 minutes after their injection.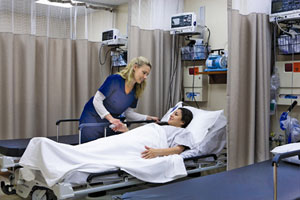 At Home After a Pain Management Injection.
Your physician will provide post-procedure instructions regarding diet, rest and medications. In the event of any difficulty, call your physician.
Do not drink alcoholic beverages for 24 hours after receiving an anesthetic.
Plan to have someone at home with you for 24 hours after your injection.
If you're suffering from orthopedic pain and are considering pain management injections contact the doctors at Orlin & Cohen, the leading Long Island orthopedic practice. Immediate appointments are available: Schedule yours now.