Orlin & Cohen Orthopedic Group welcomes new Director of Orthopedic and Sports Medicine for Suffolk County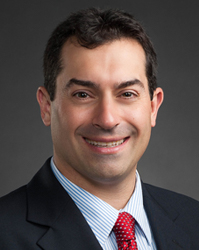 Smithtown, NY – July 3, 2018 – Orlin & Cohen Orthopedic Group, Long Island's leading orthopedic practice, is pleased to announce James M. Paci, MD, board-certified orthopedic surgeon, is joining the practice as Director of Orthopedic and Sports Medicine for Suffolk County.
Dr. Paci specializes in the care of athletes and disorders of the shoulder, elbow and knee. He is currently seeing patients at the Woodbury Office of Orlin & Cohen Orthopedic Group and the newly-opened Smithtown location of the group practice.
He will also join the Donald & Barbara Zucker School of Medicine at Hofstra/Northwell as an Associate Professor of Orthopedic Surgery.
Prior to joining Orlin & Cohen Orthopedic Group, Dr. Paci was an Associate Professor in the Department of Orthopedic Surgery, Divison of Sports Medicine, at Stony Brook Orthopedic Associates for Stony Brook University Physicians. He received his undergraduate degree from Yale University, his medical degree from Chicago Medical School and completed his orthopedic surgery residency at SUNY Upstate Medical University in Syracuse, where he was Chief Resident from 2008-2009. Dr. Paci completed an orthopedic sports medicine fellowship at the esteemed American Sports Medicine Institute (ASMI) in Birmingham, Alabama, under the direction of Dr. James Andrews, where he received the 2009-2010 award for excellence in clinical research.
About Orlin & Cohen
Orlin & Cohen Orthopedic Group is a multispecialty practice that can conveniently meet all of our patients' orthopedic and musculoskeletal needs. The practice features a team of board-certified, fellowship-trained orthopedic subspecialists, as well as in-house advanced diagnostic imaging, neuromuscular testing, pain management, physical rehabilitation and occupational therapy. The practice includes an expansive and accessible team of physicians including subspecialists in sports medicine, foot and ankle, hand and upper extremities, joint replacement, spine, neck and back, neurology, pain management, and radiology.