In-house Diagnostic Imaging for Your Convenience
At Orlin & Cohen, diagnostic imaging is part of your comprehensive orthopedic care. Whether you need an MRI, CT scan, X-ray or Ultrasound, you can get the test you need when you need it. No hassles, no headaches, no waiting weeks for an appointment. Your results are available when your doctor needs them, so you can begin your treatment as soon as possible.
If one of our subspecialists determines that diagnostic testing is necessary, our knowledgeable office staff can take care of the rest: From scheduling your appointment to obtaining authorization from your insurance company.
Diagnostic Testing Near You
Meet Our MRI, CT, X-ray & Ultrasound Specialist
Our network of offices throughout Long Island and Queens means a top orthopedic specialist is always close to you.
Kew Gardens
80-02 Kew Gardens Road
Suite 100A/100B
Queens, NY
718-970-6600
View Location
Orthopedic MRI
Superior to many other techniques, MRI has proven invaluable for diagnosing many knee, hip, spine and neck conditions, enabling doctors to see musculoskeletal structures that may not be visible by other methods. Orlin & Cohen has American College of Radiology-accredited MRI imaging facilities with the latest technology, including:
High-Resolution Short-Bore MRI
High-Field Wide and Short-Bore MRIs
Open MRI
Extremity MRI
Seated Extremity MRI
Advanced High Field Open MRI
Our MRI machines provide superior image quality for the most accurate diagnosis possible. Orlin & Cohen's state-of-the-art technology maximizes your comfort, too, with specialized equipment that reduces scan times and covers as little of your body as possible to minimize claustrophobic feelings.
How to Prepare for an MRI
MRI scans involve minimal prep and no fasting. Since MRIs use powerful magnets, you should:
Avoid clothing that contains metal, like snaps, buttons, zippers, or other fasteners
Remove jewelry, glasses, watches, and hearing aids before the exam
Leave coins, keys, credit cards, cell phones, and anything else that is magnetic or may contain metal in one of our secure changing rooms
If you wear a cardiac pacemaker or have metal inside your body, like metal plates, wires, screws, or rods, speak with your doctor about whether an MRI is right for you.
Diagnostic MRI FAQs
How long does an MRI take?
How long an MRI takes can vary, but the average is about a half hour. However, MRIs of certain long bones, contrast-enhanced studies, and arthrograms of certain joints can take approximately one hour.
What does an MRI show?
An MRI enables doctors to see body structures—including bones, soft tissue, muscles, ligaments, and tendons that may not be visible by other methods.
What is an MRI used for?
An MRI has proven valuable for diagnosing many joint, spine, neck, and musculoskeletal disorders.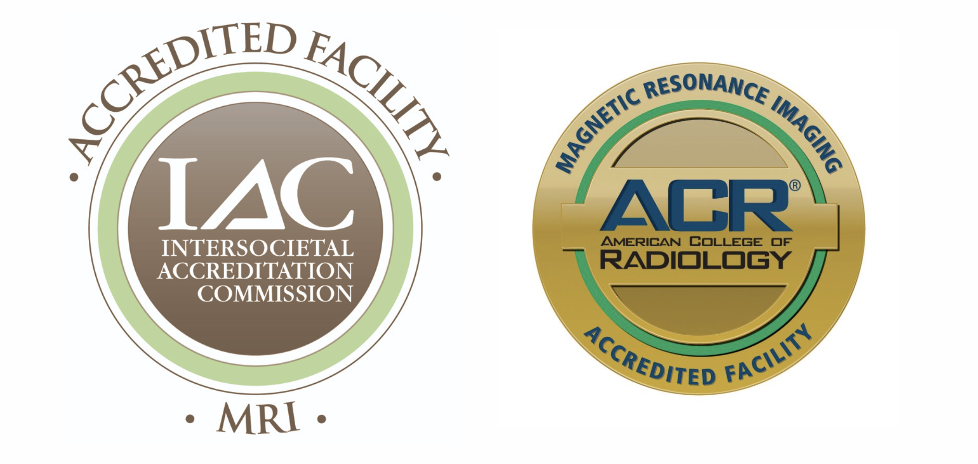 X-ray for Orthopedic Injuries
Every office in the Orlin & Cohen network has state-of-the-art X-ray technology on-site, so you (and your doctor) can get the test you need as soon as your first appointment, with results immediately available for your doctor's use.
Should you require a portable copy of these images, we can provide them on film, plain paper, or CD format.
X-Ray FAQs
What do X-rays show?
An X-ray can help orthopedists detect possible bone fractures and musculoskeletal conditions like joint dislocations.
How long do X-rays take?
X-rays generally take about five to 10 minutes. A few special tests, such as a long bone sequence, may take about 15 minutes.
How do I prepare for an X-ray?
There is no advanced preparation needed for an X-ray. Depending on the body part being scanned, your X-ray technician may ask you to remove jewelry.
Where can I get an X-ray near me?
Every Orlin & Cohen location includes an X-ray machine. Request a same-day appointment.
CT Scan for Orthopedic Injuries
Orlin & Cohen has state-of-the-art CT scanner technology to provide a more detailed image of your bones, blood vessels, and soft tissue than an X-ray alone. A CT scan enables the specialists at Orlin & Cohen to study the inner workings of your body to help speed diagnosis, assist with procedures or surgery, or confirm the success of a recent procedure or surgery. CT scans are painless, and with the newer machines, the scans only take 20 minutes.
Simulate CT™
The Only Option for a Seated Weight-bearing CT (WBCT) Scan
Orlin & Cohen is proud to provide its patients with the latest innovation in imaging technology, Simulate CT. This breakthrough system allows patients to have CT scans completed in seated, load-bearing positions, providing doctors with a detailed image of how the musculoskeletal system performs under pressure, which can help doctors diagnose, monitor, and treat many orthopedic conditions.
Weight-bearing CT scans are particularly helpful in diagnosing foot, ankle, knee, and hip injuries and ailments, as they can help your specialist visualize joint mechanics in everyday positions.
In addition to advanced imaging benefits, the Simulate CT System offers superior patient comfort. It adjusts to suit patients of any height and weight, and the seated position offers stability throughout your scan.
How to prepare for a CT Scan
CT scans involve minimal prep and, in most cases, no fasting. You should:
Wear comfortable, loose-fitting clothing
Remove jewelry, hair pins, eyeglasses, and hearing aids
While CT scans don't rely on powerful magnets like MRIs, metal objects and other removable accessories can affect your images, so it's best to remove them whenever possible.
CT Scan FAQs
How long does a CT scan take?
The average time for a CT scan is approximately 10 minutes. However, if the CT is for surgical planning, like a hip or knee replacement, it may take around 15 or 20 minutes.
What is a CT scan used for?
An orthopedic CT scan provides an image of your bones, blood vessels, and soft tissue better than an X-ray alone. A CT scan can help speed up diagnosis, assist with procedures or surgery, or confirm the success of a recent procedure or surgery. We also use it to assist the prosthetic company with measurements needed for hip or knee replacements.
Where can I get an orthopedic or weight-bearing CT scan?
You can get an orthopedic or weight-bearing CT scan at Orlin & Cohen's Garden City location.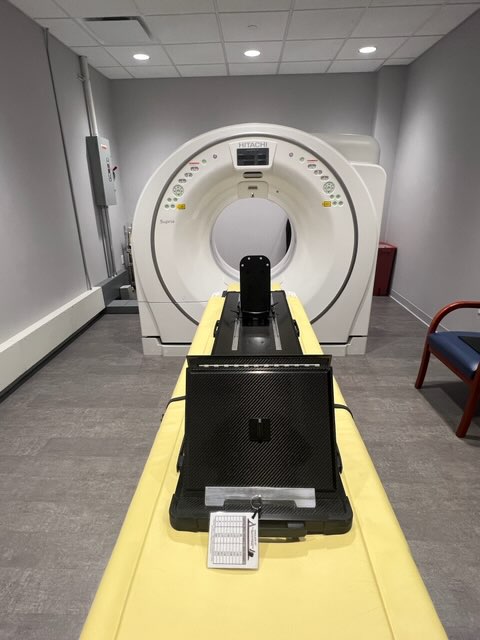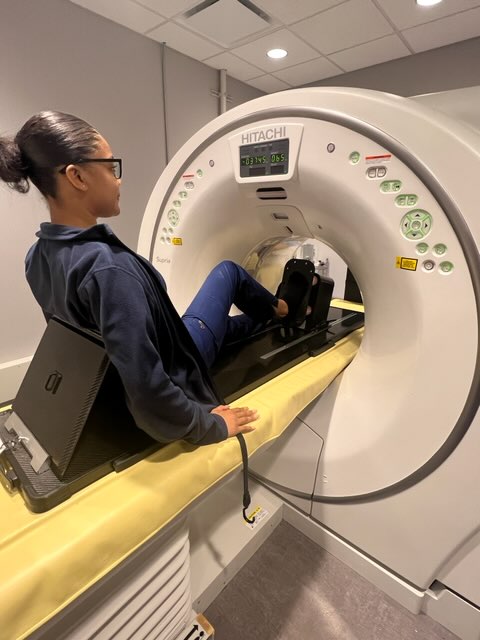 Ultrasound for Orthopedic Injuries
Orlin & Cohen's orthopedic ultrasound offers exceptional clarity and advanced imaging of muscles, tendons, nerves, and other soft tissue. This technology can help your specialist diagnose, monitor, and treat injuries and other musculoskeletal conditions in real time.
Orthopedic Ultrasound FAQs
What is an orthopedic ultrasound?
Orthopedic ultrasound uses sound waves to produce images inside the body. It is the same technology many are familiar with from viewing a baby inside a pregnancy, but with orthopedic ultrasound, the scan provides real-time images of joints, muscles, and tendons. A probe or wand, known as a transducer, is placed in ultrasound gel. Then, the transducer scans the impacted part of the body. The transducer emits high-frequency sound waves that are transmitted through the gel and into the body. The waves inside the body bounce back to the transducer, creating an echo that is captured and instantly converted into an image of the scanned area.
What are orthopedic ultrasounds used for?
Orthopedic ultrasounds can help diagnose sprains, strains, tears, pinched or trapped nerves, arthritis, and more. It also offers greater precision for guided injections and may be used in interventional pain management treatments.
How do I prepare for an orthopedic ultrasound?
There is minimal preparation needed for an orthopedic ultrasound. It's helpful to wear loose, comfortable clothing, especially near the impacted area, to allow for easier scanning.
How long do orthopedic ultrasounds take?
In most cases, orthopedic ultrasounds can take between 15 and 30 minutes. It may take longer if a more detailed evaluation is required.