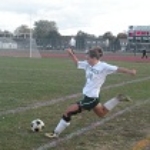 I am thrilled to be healthy and back on the soccer field, and I want to say a huge Thank You to Dr. Price for helping me get there! I was a junior in high school when I tore my left ACL, and although the news was devastating, Dr. Price was encouraging and positive. He told me that with a little hard work, I could be back playing soccer in six months – and I was!
Two years later, while I was enjoying a great first season of college soccer, I again tore my ACL – this time, it was my other knee along with a small medial meniscus tear, and a slight defect in my knee cartilage that required microfracture surgery. Scheduling surgery while I was away at school took a lot of coordination, but Dr. Price and his staff were more than accommodating. Again Dr. Price was empathetic, compassionate, and always optimistic.
Throughout my surgeries, Dr. Price was always available for me. As an avid athlete himself, he understands the emotional impact an injury can have. Dr. Price's approach goes beyond the typical doctor-patient relationship. He was always quick to answer all my questions, calm my fears, and let me know how hard I could push myself. I am currently in the physician assistant program at school, and I will always be grateful for having somebody teach me how to be a caring healthcare provider while having such a great bedside manner!
So Dr. Price, thank you for all the knee repairs and for always helping me believe in me!!